Οι φλέβες (dikes) είναι κατά κύριο λόγο ηφαιστειακές διεισδύσεις σε έναν προϋπάρχον βράχο. Μία φλέβα μπορεί, επίσης, να δημιουργηθεί από  ιζηματογενείς αποθέσεις σε μία προϋπάρχουσα διάκλαση (joint). Η φλέβα τέμνει εγκάρσια τον προϋπάρχοντα βράχο και είναι κάθετη ή σχεδόν κάθετη.
Οι ηφαιστειακές φλέβες εμφανίζονται λόγω της πίεσης, της τάσης και της παραμόρφωσης στο υπέδαφος, οδηγώντας τις φλέβες να εμφανίζονται γύρω από την επηρεασμένη περιοχή. Είναι ευκολότερο να αναγνωρίσουμε μία φλέβα γιατί κόβει εγκάρσια τη γεωλογική στήλη.
Τόσο για τις φλέβες όσο και για τις στρωματοειδείς φλέβες (sills) σε ηφαιστειογενές πέτρωμα, ισχύει ότι συχνά δημιουργούν στηλοειδείς διακλάσεις, λόγω της διαδικασίας της ψύξης.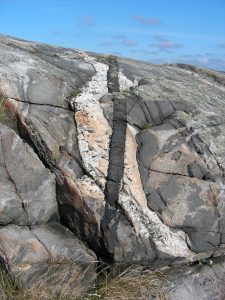 Polarpedia has information categorized by main topics. Click on an icon below to view the available terms.