Hydropower is power derived from the energy of falling water or fast running water, which may be harnessed for useful purposes. Historically, hydropower from many kinds of watermills has been used as a renewable energy source for irrigation and the operation of various mechanical devices, such as gristmills, sawmills, textile mills, trip hammers, dock cranes, domestic lifts, and ore mills. To harness the energy from hydropower a trompe that is a water-powered air compressor, is commonly used before the advent of the electric-powered compressor.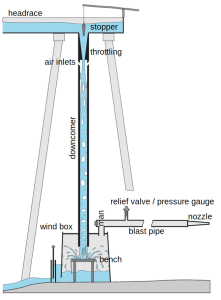 In the late 19th century, hydropower became a source for generating electricity. The first commercial hydroelectric power plant was built at Niagara Falls in 1879. A typical hydroelectric plant is a system with three parts: a power plant where the electricity is produced, a dam that can be opened or closed to control water flow and a reservoir where water is stored. The water behind the dam flows through an intake and pushes against blades in a turbine, causing them to turn. The turbine spins a generator to produce electricity. The amount of electricity that can be generated depends on how far the water drops and how much water moves through the system.
The Advantages of hydropower plants are :
Once a dam has been built and the equipment installed, the energy source—flowing water—is free.
It is a clean fuel source renewed by snow and rainfall.
Hydropower plants can supply large amounts of electricity.
Hydropower plants are relatively easy to adjust for demand by controlling the flow of water through the turbines.
Since the early 20th century, the term has been used almost exclusively in conjunction with the modern development of hydroelectric power. Hydropower significantly contributes to economic development without adding substantial amounts of carbon to the atmosphere. Hydropower is one of five renewable energy sources the others being biomass energy, geothermal energy and wind energy.
Hydropower is produced in 150 countries around the world with the Asia-Pacific region generating 33 percent of global hydropower. There are five largest producers of hydropower in the world: China, Brazil, Canada, The United States and Russia.
Iceland
Over 80% of electricity in Iceland is generated in hydroelectric power stations. The National Power Company of Iceland currently operates 15 hydroelectric power stations making it one of the largest producers of renewable energy in Europe. The largest power station by far is Kárahnjúkar Hydropower Plant (690 MW), which generates electricity in the area north of Vatnajökull for the production of aluminum. The hydroelectric power stations, historically all run by Landsvirkjun, are central to the existence of Iceland as an industrialized country.